DFG CNY LOHEI 2020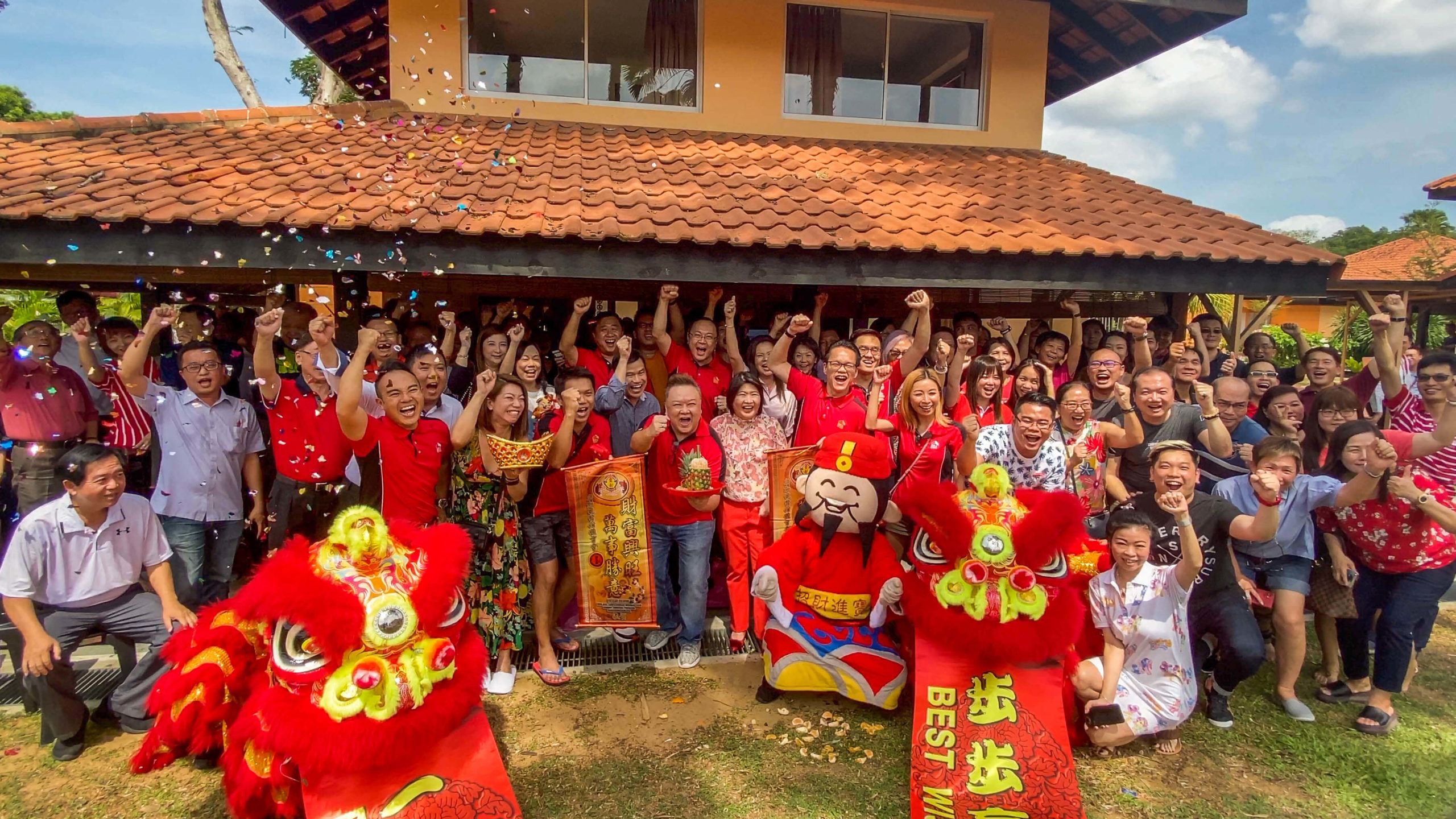 DFG CNY Lohei 2020 was held on 04 February 2020 at National Service Resort & Country Club (NSRCC). As usual, this event was fully sponsored by our 4 Founders, DDs and regular sponsors, that have been supporting Dynamic Force Group (DFG). In DFG, the leaders always practice effectively use of time and timing to share information.
Short Video Of DFG Lohei & Welcome Event
The morning started with DDs & ICs getting together to roll out plans & new initiatives for every DFG member to benefit. During lunch, the DDs continued to review & discuss on how to further improve and empower members in their Sales and Team building, regardless experienced or inexperience.
DFG Leaders' Meeting
Meanwhile, the crowd started to stream in consistently. The energy level was super high, laughter and joy filled the air as everyone seemed to know everyone (that is how closely knitted DFG is). The highlights of the event were the much anticipated Lion dance & God of Wealth performance graced by CEO Mr Jack Chua & COO Ms Doris Ong. Followed by the auspicious Lo hei, everyone lifted their chopsticks, tossing high up symbolising progressive wealth & prosperity for 2020.
Opening Speech By CEO / COO
Opening Speech By DFG Founders
Activities continued concurrently, Founder Simon took charge of games; with one simple cloth, the chalet was buzzing with excitement and more importantly, the participants were thrilled to win prizes. Somewhere in front of the kitchen, where a round table was tucked nicely away from the gamers, DD Luke was surrounded with enthusiastic punters trying their lucks. Often, the word "picture" was heard. Well, one could easily guess the game. At the other corner of the chalet, DD Betty and three members were practicing their finger & mind skills on the table with 144 tiles & 2 dices. For some who wanted to flaunt their unique voices, DD Marcus booked them a room to unleash the musically inclined talent within.
Game IC – Co-Founder, Simon Lum at Work
What is a chalet without BBQ? Of cos, we catered the usual spread. Response for the BBQ night was overwhelmed, as a result, we had to order pizzas to fill the hungry stomachs. Either the BBQ food was nice, or everyone had so much fun, using up a lot of energy hence the need for more food!
DFG – BBQ Time
DFG sincerely congratulates all top producers for the month of Dec 2019. We are ecstatic to have different top producers on a monthly basis, meaning most had a breakthrough in sales.
Photo Of Our Producers – Top Manager
Photo Of Our Producers
Much as we look forward to our next quarter event, DFG also looks forward to more members on board. Call us today to find out more how you can benefit and synergise with us.
Other Highlights Of DFG Event
Looking forward to the next DFG Retreat and Bonding Event.
YOU SHOULD BE HERE !
Contact Any Of Our DFG Teammates For More Information
Post updated and edited on 03 March 2020 by: